Tibetan Sacred Arts: Creating a Sand Mandala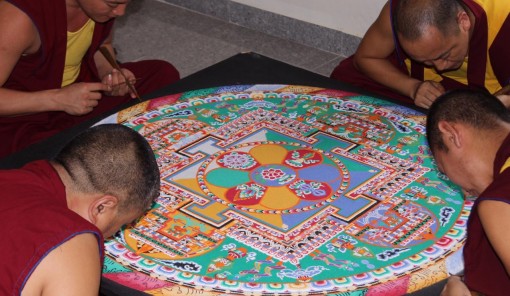 Tibetan Sacred Arts: Creating a Sand Mandala
Monday, November 18, 2019 -

19:00

to

20:30
Description:
What do sand mandalas represent?  Why are they created?  Why are they considered to be so powerful?  What is the symbolism within them?   Why are they destroyed almost immediately after creation? 
As well as giving insight into the world of the sand mandala the Drepung Kongpo Kangtsen Monks will also offer a long life ceremony and powerful chants for world peace, prosperity and healing during the evening.  There will be an opportunity to observe the continuing creation of the sand mandala, which can be a very special calming and meditative experience.  
The creation of the Sand Mandala is a 3 day event that will be available to view at St James's Church Piccadilly during the day from Monday 18th November - Wednesday 20th November.  You will be able to see the Mandala being destroyed at 7pm on Wednesday 20th in an event at the Church.   Both events are donation only.