Your Perfect Crystal and Crystal Elixir Masterclass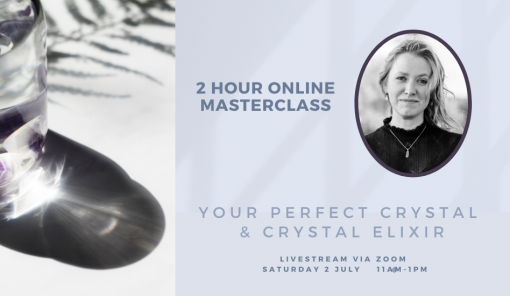 Your Perfect Crystal and Crystal Elixir Masterclass
Saturday, July 2, 2022 -

11:00

to

13:00
Alternatives says:
Workshop leader Gemma Petherbridge, is a wealth of knowledge on all things crystals. As a Crystal Therapist, she has been working with them for 16 years.
Description:
Do you love crystals? Maybe you have a big collection or you're on the lookout for your first ever crystal purchase and you just can't pick the perfect one.
Gemma, our workshop leader, will start the session with a brief introduction into crystals and the impact they can have on our lives. She will then show you how to pick the perfect crystal, how to llok after them and how to create Crystal Elixirs.
- A Crystal Elixir is crystal infused water which the ancient Alchemists believed had powerful healing properties.
Using the Chakras for guidance, in this two hour masterclass you will be taken through a process designed by Gemma herself to identify the perfect crystal(s) for your current unique needs.
Once the foundation is set, it is then time to look at how we make our crystal elixirs, the steps involves and how crystal elixirs can be used to enhance the benefits of crystals.
You will go home knowing:
Why crystals are so good for us.

How the Chakras can help us pinpoint our current crystal needs.

What a crystal elixir is.

The benefits of using a crystal elixir

How to make a crystal elixir

What crystals to add to elixirs

What crystals you shouldn't use
Bonus: Everyone who attends the workshop will receive a crystal through the post (UK only)
Who is the workshop for?
Whether you have never bought a crystal before or you have a room full of them, this workshop will help take your knowledge to the next level. You do not need any previous experience working with crystals, all you need to know is that you're drawn to them, and you would like to learn more.