Walking in this World - 12 week experience - student group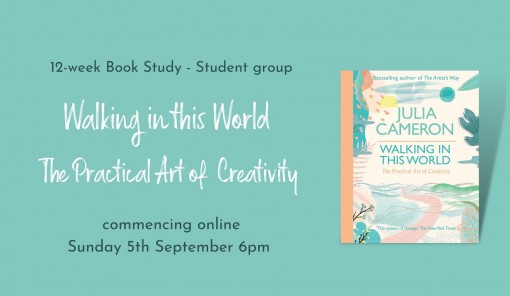 Walking in this World - 12 week experience - student group
Sunday, September 5, 2021 - 18:00

to

Sunday, November 28, 2021 - 19:00
Description:
Walking in this World is the sequel to the classic bestselling book - The Artist's Way. In this book - Julia Cameron presents the next step in her life-changing method of discovering and recovering the creative self.
In this student-led group experience, we will read and study 'Walking in this World' in it's 12-week program format together.
You will learn how to build on the lessons learned in The Artist's Way and how to inhabit this world with a sense of renewed creativity.
Acquire new strategies and techniques for breaking through difficult creative ground, and take the next step in tge path to unlocking your true creative potential.
The course will take place within 'The Writer's Salon' - a private network away from the adverts and chaos of other social media platforms. In the Salon you will be able to meet and study with fellow writers, creatives and beginners!
How does it work?
There will be 1-hour Zoom calls held weekly on Sunday's at 6pm BST
After an introduction, review and guidance from your host, you will be put into groups to discuss the week's lesson/chapter.
You will have guided prompts about everything that should be touched upon in the discussion and timestamps to make sure that everyone has a chance to share.
There will be creative/craft challenges, polls, quizzes, readings, and support.
The first call is scheduled for 5th September at 6pm BST when we will start to read the book together.
The aim is to study the book in as much detail as possible with a group of like-minded readers
Important note:
- You will need a copy of the book. The book is available on Amazon, or if possible please support a good independent bookseller.