Tantric Yin & SoundBath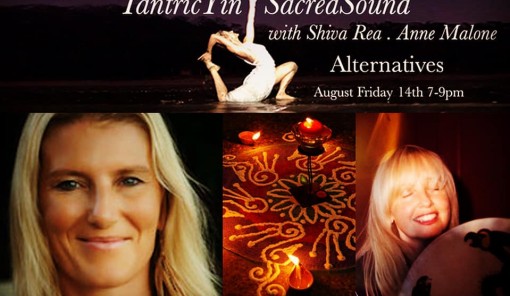 Friday, August 14, 2020 -

19:00

to

21:00
Alternatives says:
Regeneration in Soulful Times
Description:
Caress stress and unwind as we explore a meditative regenerative sequence with the evolutionary Prana Vinyasa Lunar Namaskars and practice for deep relaxation, natural flexibility as a flowing approach to transforming stress and tensions and being peace.
Soma is connected to the inner water, ojas (essence, vitality and amrita) as the sublime nectar of healing. 
Our movement meditation includes lunar namaskars, slow flow asanas sequence, mudra, mantra into guided healing meditation and yoga nidra to receive the sound healing of Anne Malone. 
... drifting delicately from Shiva's alchemical global rhythmic flow and soundscape we will fall into the magical healing sounds of Oasis Sound ... a simple yet profound way to connect with the core of our being and tune our body at a cellular level through the gentleness of its resonance. As you relax and bathe in the exquisite healing sounds and vocal tones, releasing stress and blockages using healing sounds of Tibetan Singing Bowls, Gong, Celtic Drum, Rainstick, Vocal Toning and Mantra ... the SoundBath gently 'retunes' you with healing sounds and song ...
Sound Healing is all about vibration, instrument and intention ... every sound is vibration and vibration touches every cell in our body, every sound that has loving intention is a Healing Sound ... therefore we not only hear sound, we feel it physically, emotionally and soulfully.
The only side affect is happiness and harmony!
After we will share a cup of tea for those that want to be together in soulful conversation.