Short Talks, Big Message, Musicality + Creativity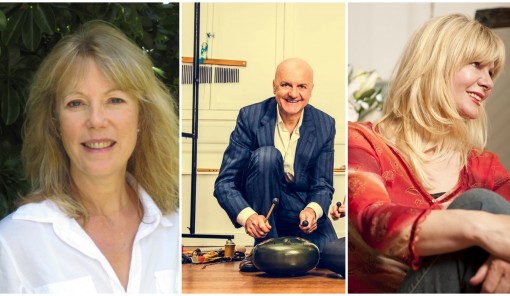 Short Talks, Big Message, Musicality + Creativity
Monday, February 25, 2019 -

19:00

to

20:30
Alternatives says:
Tonight we invite you to experience a selection of 20 minute presentations in this 'TED Talk' inspired event!
Description:
Our three chosen speakers all have a musical background but in very different ways!  Tonight they address the symphony of music, creativity and spirituality. 
When we hear the music of Tim Wheater, something stirs deep inside us. Something powerful - evoking emotions, stirring memories, and healing.  A world renowned flautist, sound healer and recording artist, Tim found himself in the early 1980s, Joining Annie Lennox and Dave Stewart, to become a founding member of the alternative rock band, Eurythmics.  
For the last 30+ years, Tim has been composing, performing, recording, producing and lecturing on music and its healing abilities.  Tonight he shares his personal story of the creative process behind sound healing and transcendental quality of music.  
Dr. Jenny Boyd gathered interviews with 75 subjects while living in Los Angeles, as part of her Ph.D dissertation on musicians and the process of creativity. This collection was eventually published as It's Not Only Rock 'N' Roll: Iconic Musicians Reveal The Source of Their Creativity.  The interviewees include Clapton, Harrison, Fleetwood, Keith Richards, Ringo Starr, Steve Winwood, Stevie Nicks,  Don Henley, and Joni Mitchell. 
Like her sister Pattie, Jenny became a model in swinging-'60s London. Pattie married and divorced both Beatle George Harrison and Eric Clapton; Jenny married and divorced Mick Fleetwood twice, then married and divorced another great drummer, the late Ian Wallace.
She is founder and director of Spring Workshops, "organizing psychotherapeutic groups for people in need of personal development."
Tonight Jenny talks about the creative process of master musicians and how it open's the door of self exploration. 
Janey Lee Grace is a presenter, singer and author.  She is co-presenter on the UK's  biggest radio show, BBC Radio 2's  Steve Wright in the Afternoon.  She began her career singing backing vocals for Kim Wilde,  Boy George and toured the world as a backing singer with George Michael and Wham!  She reached number 8 in the charts with the single 7 ways to love (Cola Boy) in the early 90's.  
Janey is a major influencer in the world of natural health and well-being,  she has written five books on Holistic living including the number One Amazon best seller Imperfectly Natural Woman.  Janey believes there is a natural alternative to everything and aims to  inspire us to happiness and well being through living a more sustainable lifestyle (albeit imperfectly) and the importance of extreme self-care.  Janey runs the recommendations website imperfectlynatural.com and has just launched a free podcast Janey Lee Grace Alcohol Free Life.