The Power of Now - 10 week experience - student group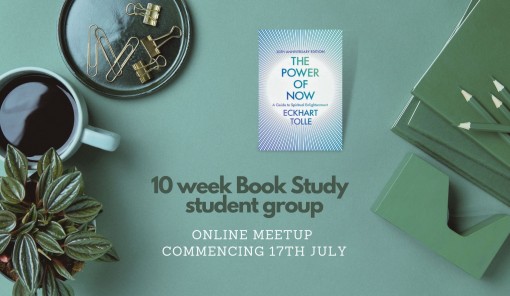 The Power of Now - 10 week experience - student group
Sunday, July 17, 2022 - 10:00

to

Sunday, September 25, 2022 - 11:30
Description:
10 x 90 minute sessions, 10am – 11.30am BST
Sundays commencing 17th July  
Presenting a 10-week book study group for The Power of Now by Eckhart Tolle.
In the international bestselling book, Eckhart Tolle demonstrates how to live a healthier, happier, mindful life by living in the present moment.
In this student-led group experience, we will read and study 'The Power of Now' together as a group.  You may have read the book before, or had it on your book shelf with the intention to read it one day.  This spiritual classic is a must-read and you can enjoy a deeper experience of the work when discussing it with other like-minded seekers.
The course will take place within 'The Salon' - a private network - away from the adverts and chaos of other social media platforms. In the Salon you will be able to meet and study with fellow spiritual seekers.
How does it work?
There will be a 90 min Zoom call held weekly on Sundays at 10am BST.
In breakout groups of 3, you will be given prompts (taken from the themes in the chapter of the week) to discuss and practices to do together. The groups will randomise every week.
In these breakout rooms you will be able to discuss in depth your own experience of the book and hear how others interpret the material. Over the 10-week period, you will be able to meditate, practice and theorise over the material with many other students.
The first call is scheduled for Sunday 17th July at 10am BST.
Important note:
You will need a copy of the book. The book is available on Amazon, or if possible please support a good independent bookseller. 
Any questions – please email us here