The Power of Compassion Concert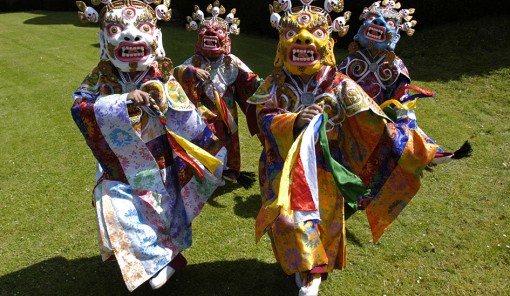 The Power of Compassion Concert
Monday, October 28, 2019 -

19:00

to

20:30
Alternatives says:
A mesmerising concert of sacred sound, colour and movement
Description:
This evening, eight Tibetan monks from Tashi Lhunpo Monastery bring a moving and inspirational insight into the world of sacred music and monastic dance from the contemplative, mesmerising chant of Buddhist texts and mantras to the majestic brocade-costumed masked dances. Ancient musical instruments from the Tibetan Tantric tradition are used: the conch-shell trumpet, horns made from human leg bones, skull-drums and meditation bells, while the powerful sound of the majestic dungchen or long horns is accompanied by cymbals, bells and drums, evoking the atmosphere of sacred Tibet and offering an opportunity to experience a unique endangered culture.
The monks will be joined by Michael Ormiston and Candida Valentino, the UK's most experienced Mongolian overtone singers.
Michael Ormiston & Candida Valentino are the UK's most respected and experienced Mongolian Khöömii overtone/undertone singers. Their unique concerts cross the boundaries between traditional Mongolian Music, Sacred Sound Journeys using Tibetan Singing Bowls, Symphonic Gongs, experimental improvisations with live electronics and original compositions on their vast collection of acoustic instruments.
'...a psychedelic whirl of chanting, dancing, drums, cymbals...' – The Times
'…the living embodiment of a thousand years of philosophy and knowledge... hundreds of years of ancient wisdom.' – British Theatre Guide