INSIGHT OUT - A Documentary Exploring the Transformative Effects of Out of Body Experience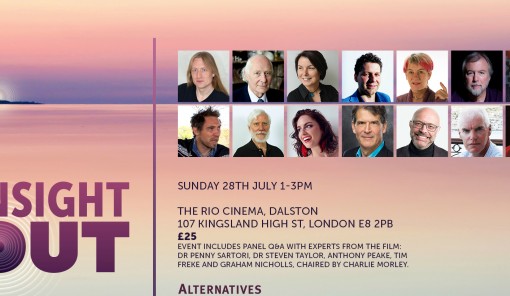 INSIGHT OUT - A Documentary Exploring the Transformative Effects of Out of Body Experience
Sunday, July 28, 2019 -

13:00

to

15:30
Alternatives says:
Jade draws on personal experience, academic research and spiritual traditions offering a balanced view of the extraordinary phenomena of OBE's
Description:
In 2014 Jade Shaw had a spontaneous Out of Body Experience (OBE) that changed her life. Soon after she left her company and a 12 year career in the arts to study this phenomena.  During this journey she discovered others with similar stories whose experiences had shaped their lives in profound ways.
FILM
Insight Out is a documentary that reveals these stories, disrupts preconceived ideas about OBEs and asks provocative questions about the nature of consciousness and reality. 
Renowned experts explore the edge of consciousness and the mystery of Out of Body Experiences.  
Experts featured include - Dr Eben Alexander, Dr Tom Campbell, Dr Penny Sartori, Dr Steven Taylor, Dr David Luke, Dr Peter Fenwick, Dr Susan Blackmore, Anthony Peake, Tim Freke, William Buhlman, Sergio Magana, Graham Nicholls, Rodrigo Montenegro and Charlie Morley. 
Q&A PANEL
Ask questions to experts from the film in the Q&A discussion chaired by Charlie Morley. 
The panel includes authors: - Sergio Magana, Dr Penny Sartori, Luigi Sciambarella - UK lead for Monroe Institute, Anthony Peake- Tim Freke- Graham Nicholl's Oliver Robinson of The Science and Medical Network closes the event with a short talk about the future science & spirituality.