Childless Not By Choice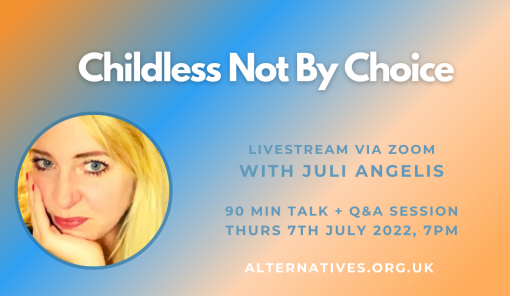 Thursday, July 7, 2022 -

19:00

to

20:30
Alternatives says:
Juli Angelis is a Trauma Therapy Practitioner and Holistic Life Coach
Description:
Involuntary childlessness whether by circumstance or infertility, remains a taboo and is still a little discussed topic. Being CNBC (aka Childless Not By Choice) impacts millions of people around the world of all ages and genders, and makes up a significant layer of diversity which is often "invisible", invalidated or overlooked. In addition, those who are CNBC may not speak up for fear of being stigmatised or judged, and the resulting misunderstandings that can arise, may also impact personal relationships, including with family, friends and colleagues.
Involuntary childlessness is a complex topic and is more than "not having kids", impacting "women of a certain age". It can impact people across a lifetime and include various layers including: disenfranchised and prolonged grief, social exclusion, infertility and impacts on sense of identity.
This event will provide an insight to the "secret" world of childlessness for the childless  (who, due to the secret nature of childlessness often do not even realise there are CNBC communities around the world) and also those who would like to support childless friends, family or colleagues.