The Autobiography of a Yogi - 8 week book club - student group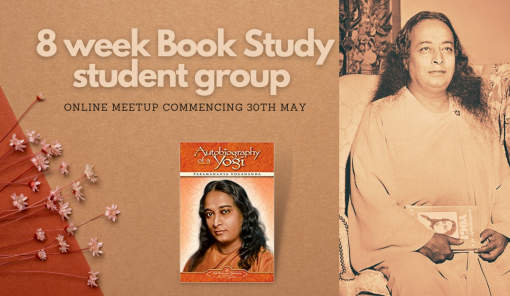 The Autobiography of a Yogi - 8 week book club - student group
Monday, May 30, 2022 - 18:00

to

Monday, August 1, 2022 - 19:00
Description:
8 x 60 minute sessions, 6pm – 7pm BST
Mondays commencing 30th May 
Presenting a 8-week book study group for The Autobiography of a Yogi by Parmahansa Yogananda.

"Gain strength to rise above distraction by sipping frequently the nectar of inner peace,
given to you lovingly by angel hands as you grow silently toward Self-realization."  
Parmahansa Yogananda, The Autobiography of a Yogi

In this student-led book club, we will read and study 'The Autobigraphy of a Yogi' together as a group. 
Considered one of the most important spiritual books ever written - The Autobiography of a Yogi by Parmahansa Yogananda has stood the test of time and offers as much spiritual direction as it did when it was first published in 1946.
This book is an introduction to the methods of attaining Self-realization and to the spiritual wisdom of the East from the perspective of one of the most important spiritual teachers ever, Parmahansa Yogananda.
Autobiography of a Yogi examines the life and spiritual development of Paramahansa Yogananda. The book describes Yogananda's childhood family life, the establishment of his first school, the Self-Realization Fellowship and his time with Luther Burbank, Therese Neumann Ananda Moyi Ma,Mahatma Gandhi and Rabindranath Tagore
The book was the ONLY book that was on Steve Jobs iPad as well as being his last gift to his friends. Everyone attending Steve Job's funeral was given a copy of the book. The book's effect on popular and contemporary spirituality is undeniable.
For one session in June, we will be joined by  Brother Tyagananda, who has been a monk of the Self-Realization Fellowship (SRF) monastic community since 1987. Born in Italy, Brother Tyagananda began practicing yoga in his early teens and became a student of the SRF Lessons by the time he was seventeen. Brother Tyagananda served for several years as co-supervisor of SRF's Center Department, which oversees the operations of the SRF meditation centers and groups around the world, and is currently residing at the SRF Hidden Valley Ashram where he is involved in the conducted programs for guests and residents. He also serves as one of the ministers at the SRF Temple in San Diego, California, and has lectured on the teachings of Paramahansa Yogananda in major cities in North America and Europe.
Brother Tyagananda will be discussing his own personal journey with Yogananda's work and taking your questions!
There will also be an optional group visit to the Parmahansa Yogananda Centre of Self-Realization Fellowship in London where we can meditate in the centre that Yogananda founded in 1920.

"Seek divine wealth, not the paltry tinsel of earth. After acquiring inward treasure, 
you will find that outward supply is always forthcoming."
- Paramahansa Yogananda, Autobiography of a Yogi


You may have read the book before, or had it on your bookshelf with the intention to read it one day. This spiritual classic is a must-read and you can enjoy a deeper experience of the work when discussing it with other like-minded seekers.

How does it work?
There will be a 60 min Zoom call held weekly on Mondays at 6pm BST.
In breakout groups of 3, you will be given prompts (taken from the themes in the chapter of the week) to discuss and practices to do together. The groups will randomise every week.
In these breakout rooms you will be able to discuss in-depth your own experience of the book and hear how others interpret the material. Over the 8-week period, you will be able to meditate, practice and theorise over the material with many other students.
The first call is scheduled for Monday 30th May at 6pm BST.
Important note:
You will need a copy of the book. The book is available on Amazon, or if possible please support a good independent bookseller.
Any questions – please email us here