Gabrielle Bernstein
About the speaker
Gabby Bernstein is the #1 New York Times best-selling author of The Universe Has Your Back and has written four additional best sellers. She was featured on Oprah's Super Soul Sunday as a "next-generation thought leader," and The New York Times named her "a new role model." She appears regularly as an expert on The Dr. Oz Show and co-hosted the Guinness World Record largest guided meditation with Deepak Chopra.
Gabby is the creator of the Miracle Membership, a first-of-its-kind monthly subscription that helps people stay committed to their spiritual practices. Her flagship course, The Spirit Junkie Masterclass, empowers people to awaken their confidence and live their purpose.
Gabby has been on an international speaking circuit since 2004. She has presented lectures at Google, TEDxWomen, Philosophy, The United Nations, The Chopra Center, The Omega Institute, L'Oréal, mark/Avon and The Huffington Post, among many other notable organizations.
Gabby is a certified Kundalini yoga and meditation teacher. She is also trained in the Emotional Freedom Technique, is a student of the metaphysical text A Course in Miracles, and practices Transcendental Meditation as taught by the David Lynch Foundation.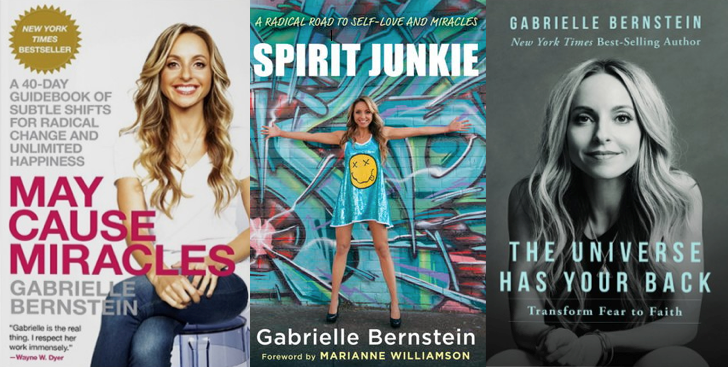 YouTube chose Gabby as one of its 16 YouTube Next Video Bloggers. Mashable included her in its list of 11 must-follow Twitter accounts for inspiration. Forbes called her one of the 20 best-branded women and Self-Made magazine named Gabby one of the top 50 women in business. She is on the steering committee for Philosophy's Hope and Grace Initiative and is a global ambassador for Lululemon.
Gabby is a regular guest on The Dr. Oz Show and has contributed to or been featured in media outlets such as Oprah's Super Soul Sunday, NBC's Today show, CNN, Fox & Friends, Kathie Lee & Hoda, Access Hollywood and OWN's Help Desk. Gabby has been featured in print publications such as The New York Times Sunday Styles section, Elle, Marie Claire, Health, Self, Women's Health, Glamour, Cosmopolitan, The Wall Street Journal and many more.
Books and articles published